[separator style_type="" top_margin="-20″ bottom_margin="-20″ sep_color="" icon="" width="" class="" id=""]

[table id=24 /]
[separator style_type="" top_margin="10″ bottom_margin="10″ sep_color="" icon="" width="" class="" id=""]
[Social9_Share]
[separator style_type="" top_margin="10″ bottom_margin="10″ sep_color="" icon="" width="" class="" id=""]
[two_third spacing="yes" last="no" center_content="no" hide_on_mobile="no" background_color="" background_image="" background_repeat="no-repeat" background_position="left top" link="" hover_type="none" border_position="right" border_size="2px" border_color="#e1e1e1″ border_style="solid" padding="30px" margin_top="" margin_bottom="" animation_type="0″ animation_direction="down" animation_speed="0.1″ animation_offset="" class="" id=""]
Champion of the Track Review
Champion of the Track is an online slot from NetEnt, so you immediately know that it's going to be great fun to play, as well as offer some really nice prizes. It's set around the world of horse racing – a popular topic for gamblers – and has loads of great features. The first thing that players will notice is the graphics though, as they are absolutely fantastic. You'll see all kinds of horse racing related symbols on the reels, such as jockeys and horse shoes, plus the sound effects are all the type you'd hear while on a day at the races.
But what about the practical aspects of this slot? Well, it's a five-reel slot with 30 paylines, however you'll be able to choose how many of these paylines you actually want to play. The least you can bet per spin is just 0.01 coins, while the maximum bet amount is a massive 60 coins. The jackpot at this slot is an impressive one, as it is worth 97,000 coins, and it comes when a player manages to win the Champion of Champions Career Bonus – but more on that later. Within the base game, the highest prize is 10,000x your bet per payline.
So, when it comes to the overall impression of this slot, it's as you'd expect from a game from NetEnt. The graphics are crisp, the gameplay is smooth and, perhaps most importantly, the prizes are really rather nice.
[separator style_type="" top_margin="0″ bottom_margin="0″ sep_color="" icon="" width="" class="" id=""]
[button link="#playnow" color="custom" size="medium" stretch="yes" type="flat" shape="round" target="_blank" title="" gradient_colors="#4bfc33|#0f7501″ gradient_hover_colors="#0f7501|#4bfc33″ accent_color="#00ba00″ accent_hover_color="#00ba00″ bevel_color="" border_width="1px" shadow="yes" icon="" icon_divider="yes" icon_position="left" modal="" animation_type="0″ animation_direction="down" animation_speed="0.1″ alignment="center" class="" id=""]Play for real at an Online Casino now![/button]
[separator style_type="" top_margin="10″ bottom_margin="10″ sep_color="" icon="" width="" class="" id=""]
Bonus Features
Bonuses are where this slot really differentiates itself from the others, and the main one to mention is the Champion of Champions Career Bonus, which leads to this slot's jackpot. It's essentially a bonus that builds up the longer you play, and involves the track that makes its way around the reels. You'll advance on the track when you play the bonus games. Along the way, you could win a couple of trophies, both of which award prizes, however the main goal is the final trophy, which leads to the jackpot. It's also great that your progress on the track will be saved for up to 48 hours.
There are two actual bonus games at this slot, with the first being activated by getting three or more bonus symbols on the reels. Activating this will see you in a race against other horses, and your finishing position will determine how far you advance up the career ladder, as well as how much you win. The other bonus is activated by getting three or more scatter symbols on the reels, and sees you awarded 10 free spins. If you manage to accrue five scatters over the course of the free spins, you'll advance one step on the career ladder, plus you'll also reset your free spins to 10.
Like most good slots, there is also a wild symbol at this game, and it is represented by the jockey's head. This is also the jackpot symbol in the base game.
Conclusion
Champion of the Track really is an innovative slot, which is exactly what some players want. It offers some nice prizes and loads of fun, however the best feature is without doubt the Champion of Champions Career Bonus, which keeps the excitement flowing throughout your time at this slot.
[separator style_type="" top_margin="10″ bottom_margin="10″ sep_color="" icon="" width="" class="" id=""]
[ratings]
Let us know what you think of this slot game.
[separator style_type="" top_margin="10″ bottom_margin="10″ sep_color="" icon="" width="" class="" id=""]
Best online casinos to play this slot game
[table id=3 responsive="tablet"/]
[/two_third]
[one_third spacing="yes" last="yes" center_content="no" hide_on_mobile="no" background_color="" background_image="" background_repeat="no-repeat" background_position="left top" link="" hover_type="none" border_position="all" border_size="0px" border_color="" border_style="solid" padding="" margin_top="" margin_bottom="" animation_type="0″ animation_direction="down" animation_speed="0.1″ animation_offset="" class="" id=""]
Slot Game Info
| | |
| --- | --- |
| Software | NetEnt |
| Paylines | 30 Paylines |
| Wild Symbol | Jockey symbol |
| Scatter Symbol | Horse scatter symbol |
| Min / Max bet | 0.01 / 60.00 |
| Bonus Round | Multi-Step Bonus Feature |
| Free Spins | Yes |
| Jackpot | No |
| RTP | 96.5% |
[separator style_type="" top_margin="10″ bottom_margin="10″ sep_color="" icon="" width="" class="" id=""]
Slot Game Screenshots
[fusion_lightbox]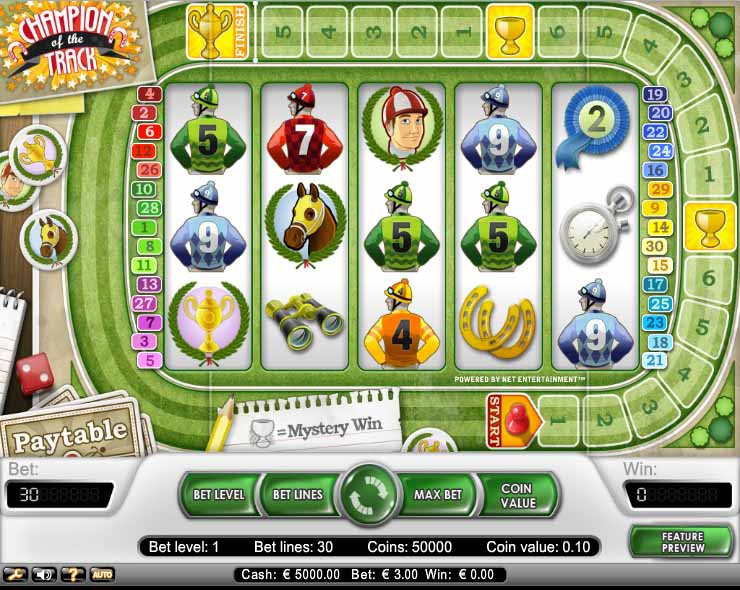 [/fusion_lightbox]
[separator style_type="" top_margin="5″ bottom_margin="5″ sep_color="" icon="" width="" class="" id=""]
[fusion_lightbox]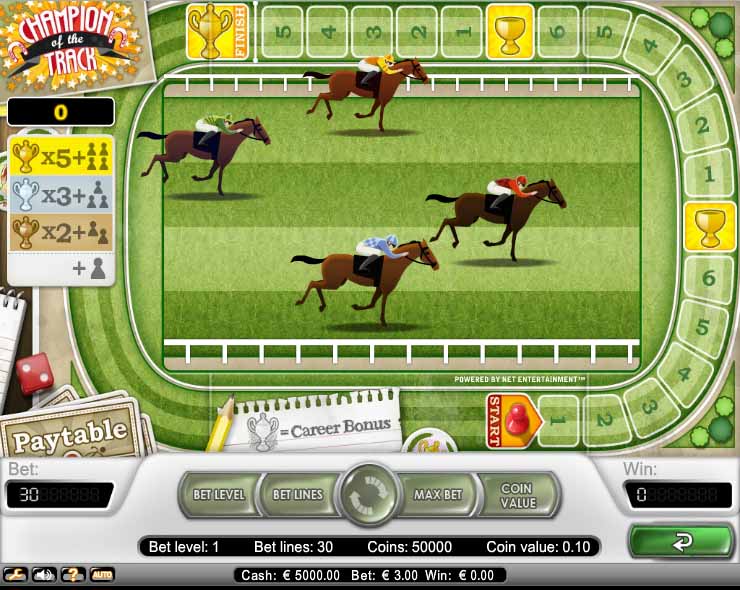 [/fusion_lightbox]
[separator style_type="" top_margin="5″ bottom_margin="5″ sep_color="" icon="" width="" class="" id=""]
[fusion_lightbox]
[/fusion_lightbox]
[separator style_type="" top_margin="10″ bottom_margin="10″ sep_color="" icon="" width="" class="" id=""]
More Slots from NetEnt
[logooos_saved id="24935″]
[/one_third]