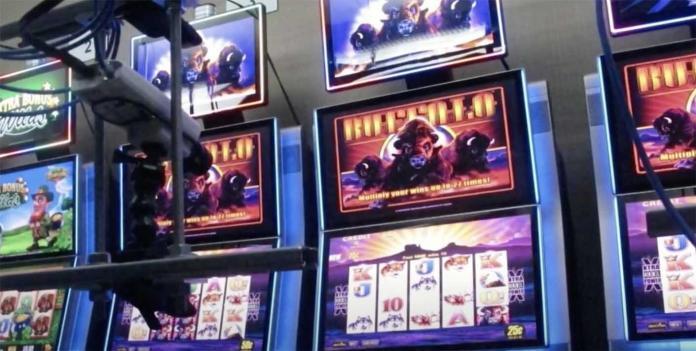 In 2020 the lines continue to blur between online and land based slot machines. One brick-and-mortar casino now includes physical slot machines on their gaming floor, which are controlled by those playing them online.
No where else in the world has this unique set up for their players. These slot machine games are located in a separate room from the casino floor. Several cameras face each of the 12 machines, which players in the brick-and-mortar casino can look through a peephole and see. The cameras pointed on the slot machines allow players at home to see them.
The reason this was made possible is due to the hesitancy of some online slots players. Those accustomed to playing in a land-based casino don't always trust an online version. The cameras allow players to trust that the game they are using is actually tangible. The hope is that this will encourage brick-and-mortar slot machine players to use online casinos as well.
These innovative slots that sit in the brick-and-mortar casino are operated by remote control. The inspiration for this set up was the soaring popularity of live casinos offered to online players. This is when players participate in a table game from their own home, with the game controlled by real life dealers in land-based casinos all over the world.
Transparency and credibility are two things that are extremely important within the online casino industry. Players are seeking these things out as part of their virtual gambling experience. They want to know that if they play at an online casino, the experience is as close as possible to what playing in a land based casino is like.
Anyone who regularly gambles at both land-based and online casinos knows that they don't always have the same slots. There are many slot machine games that have only been released to land-based casinos and do not have an online version. The reserve is also true for online slots; many casinos offer games that land-based casinos never have. With the merging of the two types of casinos, players now have online access to certain slots that in the past they would had to travel to a brick-and-mortar casino to try.
Only time will tell whether or not this new approach has the intended effect. Growing the already booming online casino industry is the goal of merging online and offline slots. If this trend takes off like live casinos did then players are in for a treat. As the world continues to change, the gambling industry is quickly changing with it. These changes are designed to strengthen the industry and to give it even more credibility.