Flowers Christmas Edition Slot Game Review
What can you do to improve a slot game that's already a big hit? Well, adding a touch of festivity is always a good idea and NetEnt have done just that with Flowers Christmas Edition. It's basically the same popular game that we have loved for many years, except all the main characters are dressed up in Santa outfits. There's no need to worry though, these aren't the type of flowers that are going to be setting you back – there's a ton of money to be won! Plus,there are still the double symbols and stacked Wilds that made Flowers such a huge title, but now you can enjoy the game at your favourite time of the year. However, even if you aren't a fan of Christmas, don't be put off, as there is plenty of opportunity to win big money. So don't just sit around, take a look at our detailed review today of this beautiful and captivating game.
Upon loading the game for the first time, you will notice that NetEnt have basically taken the same layout of their original title but added Christmas decorations that include trees, fairy lights and snow into the background. All your favourite flowers are still here including the thorny red rose, the happy sunflower, the tipsy blue bell and the hungry venus flytrap. However, instead of listening to buzzing bees like in the first title, there is something a little more relaxing about the tweeting birds and jingle of bells this time around as you spin the reels. Of course, you can even turn the sound off if you'd prefer to concentrate on the much more important task of winning money!
Flowers Christmas Edition features 5 reels 30 paylines which cannot be altered meaning that you won't be able to reduce your chances of winning, but why would you do that anyway? We've found that most software providers have stopped offering players the choice to lower these as they have cottoned on that it isn't the best way to win money. If you find that each spin is slightly higher than what you would normally wager, simply reduce your bet size.
Players can bet from as little as 0.30p or as much as £75 per spin which means that 99% of players will be happy. Low-stake players won't have to dig around much to find the minimum amount, but the real high-rollers may be a little disappointed with the maximum allowance of £75. Flowers Christmas Edition is no doubt a game for medium-stake players who fancy a little flutter. All bets can be altered easily using the arrows either side of the amount shown.
But what prizes can you win on this Christmas treat? Well, the main symbols will pay money out for 3 symbols right the way up to 10 symbols. There are 10 bet levels, and even at level 1, the prizes will range from 10 coins all the way up to massive 2,000 coins and that's for collecting 10 red roses in a bunch. Flower symbols can sometimes also appear as double symbols which will help you hit the high symbol targets. It's probably worth saying that the maximum payout is an incredible 75,000 coins for one spin.
Bonus Features
Even though decent money can be won on the base game, it's worth checking out the bonus features. Yes, there isn't much changed from the original game as it's basically a graphical update, but this is still where the maximum payouts are achieved and you need to know how to trigger these. The Wild Symbol acts as the snowflake and is the top paying symbol, enabling you to win 5,000 coins for 5 symbols on a payline. However, these snowflakes can also act as Stacked Wilds which will then substitute for other symbols to make winning combinations.
The Free Spins feature is also worth mentioning because it is definitely your best chance of winning big money. You need to look out for the chilly wind cloud here that acts as a scatter symbol. Single and double symbols will help you trigger a range of free spins and bet multipliers and here we're going to go through them all. 4 symbols will trigger 10 free spins and a 2x multiplier, 5 symbols will trigger 15 free spins and a 2x multiplier, 6 symbols will trigger 20 free spins and a 2x multiplier, and 7 symbols will get you 25 free spins and a 4x multiplier. However, the best way you're going to have the best Christmas ever is by finding 8 symbols, which will trigger 30 free spins and a phenomenal 10x multiplier.
Conclusion
Even though there isn't much difference from the great original title – just a few graphical updates – this is still a wonderful game that will be huge fun during the Christmas period. NetEnt always do an amazing job in providing entertaining games with intriguing features and they have delivered again with the Free Spins bonus offered. This feature enables the biggest prizes to be won and the game is well worth checking out just on this basis alone as it could make your Christmas a very memorable one. Just make sure you don't snub this slot if you do find yourself coming across it in the middle of the year as it really is a title that's worth a lot of your time.

Slot Game Info
| | |
| --- | --- |
| Software | NetEnt |
| Paylines | 30 Paylines |
| Wild Symbol | Snowflakes |
| Scatter Symbol | Chilly wind cloud |
| Min / Max bet | 0.30 / 75.00 |
| Bonus Round | |
| Free Spins | Yes |
| Jackpot Feature | No |
| RTP | 96.30 |
Slot Game Screenshots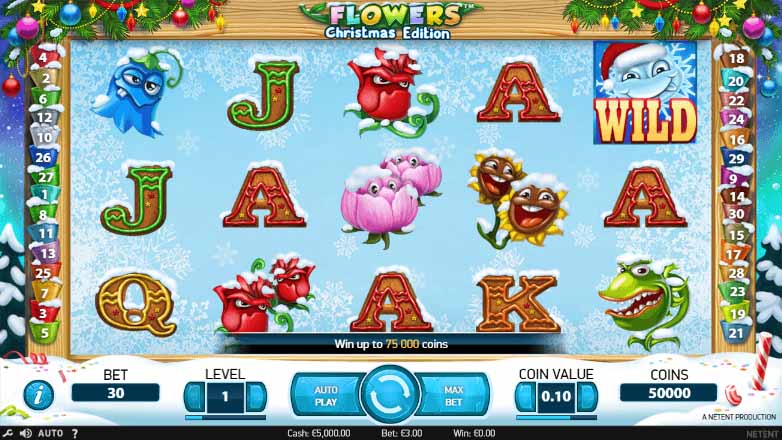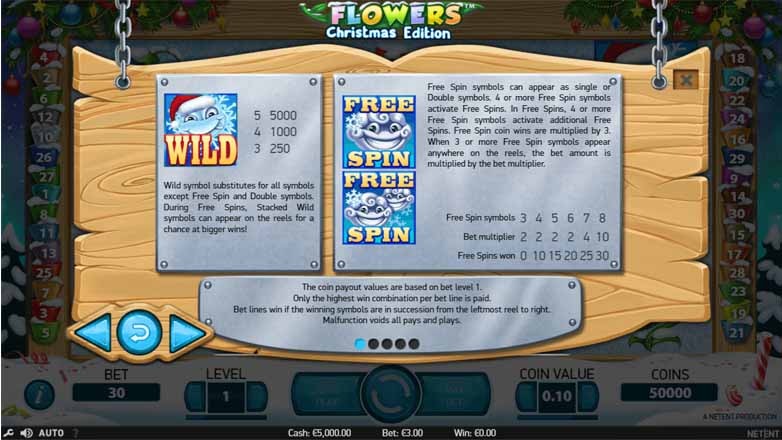 Latest Slots